Efficient, Portable Gas-Powered Equipment: Champion Generators
Champion Generators are gaining-in-popularity as a result of their cost-effectiveness and performance.
Founded in 2003, Champion Power Equipment has remarkably expanded into one of the leading generator manufacturers available.
In addition to relatively lower costs, Champion Generators offer user-friendly, portable equipment—particularly 'handy' for vacationers and would-be tailgaters.
With its 'camper-ready' three-pronged plug, Champion is becoming a household name to this growing demographic.
Besides, Champion Generators come with generous two-year warranties and have made recalls obsolete; displaying both confidence and competence for workmanship, reliability.
Moreover, after buying a Champion, one receives welcome access to knowledgeable, dedicated customer service reps. who actually assist as if they're technicians themselves.
In today's age where outsourcing is customary, Champion's unique service is invaluable to 'after-the-sale' satisfaction!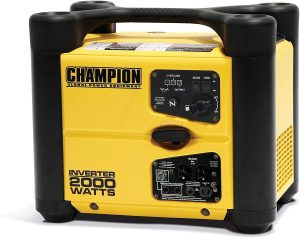 Champion Portable Generators and the Environment
Although Champion Portable Generators are assembled in China, it's indeed a US Corporation that is well respected for diligent efforts & deeds towards environmental consciousness/awareness.
As one of the lone generator manufacturers that is both EPA and CARB Certified, Champion distinguishes itself from many others in the industry.
In conjunction with EPA and CARB Certifications, Champion Generators are built with high-grade internal parts and advanced engineering practices which contribute to lower emissions, higher fuel economy, and overall longevity of equipment.
Specifically, Champion 41135 is one of the more popular portable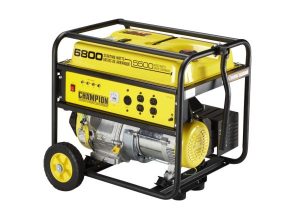 gas engine models available. The 41135 is definitely a versatile selection being that it is well-capable for addressing more demanding loads; thanks to the 5500 (running) Watt capacity, the peak-performance ability of 6800W.
Not only is the Champion 41135 quiet, dependable, and versatile, but, it's also comparatively easy to situate/further complement with several enhancing accessories.
What's more, Champion Power Equipment produces a few other CARB Compliant portable generators as well; notable models in this category are the…
(a) 42431 (1500W portable gas generator—a welcome addition to 'tail-gating' and outdoor events.)
(b) 41533 (Remote start, 7200 Watts of running power, innovative 'no-flat' tires, many more features!)
(c) 41534 (Heavy-Duty Champion Generators; portable, 'RV-friendly,' produces 7500 Watts of consistent energy.)
(d) 41535 (Category 5, 9375W Peak Power, gasoline engine, portable whole house generator.)
Conclusively, the final three (3) models that round out the CARB Compliant Champion Generators are the 41536, 41537, and an Inverter variety: 2000 Watt Champion 73531i.
In summary, when you purchase a Champion Generator—CARB Compliant or otherwise (if you live outside of California)—you'll not only receive a well-made, durable machine but will also support (mankind's) collective efforts to transition to a cleaner, more sustainable planet!
Note: The 'CARB' Acronym refers to the California Air Resource Board (an entity of California's Environmental Protection Agency.)
Moreover, certain types of equipment/machinery must be CARB Compliant to be utilized in California.
To learn more about California's Environmental Laws & Regulations, visit the California Air Resource Board's Website
Champion Generators are Cost-Effective, Reliable
The Champion Brand is relatively new to emergency power juxtaposed to some of the larger companies.
Hence, Champion Generators are still making a name
for themselves in the marketplace—granting an attractive opportunity for shoppers looking to buy a new generator…
As the firm continues to grow and expand, Champion's general price-point has well-positioned it with the larger, more well-known builders in the space.
Also, with the growing number of satisfied customers and industry compliments, Champion projects to be competitive for many years to come.
Distinctly recognized with a yellow and black color scheme, Champion Generators are easily identified in the field.
And, as a consequence of innovative technology and expanding product line, Champion is expected to receive more recognition soon.
In short, with competitive pricing, unique features, and convenient portability, Champion Generators proffer exceptional options when considering on-the-go power supply…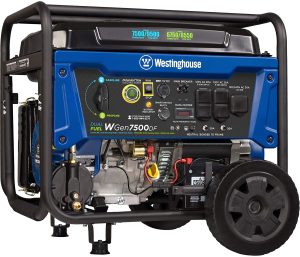 Champion Power Equipment Benefits
Champion Generators are mainly portable while others in the field specialize in standby generators.
As mentioned, Champion is a leading brand within the camper community and really offers tremendous value for prospective owners.
By way of a ready-made, three-pronged plug, there's no adapter needed to utilize Champions with RVs/Campers.
Speaking of which, one of the most popular (and effective!) models for RVs is the 46561.
With remote-start capability, the Champion 46561 presents near
infinite possibilities for employment of its 3500 Running Watt capacity.
What's more, Champion Generators run (relatively) quietly in operation—always a benefit when using any type of equipment.
All things considered, Champion is a leading organization in regards to portable backup power supply…
While speaking with several owners about their experience with Champion Equipment, they've all raved about how consistently the machinery starts (usually on the first pull), and how low-pitched it runs.
Furthermore, Champions are chiefly suited for portable application(s), but, one can employ the higher capacity models as generators for home use as well.
Naturally, generators less than 3500W output will have limited functionality within the home setting—but remain capable of powering essential components nevertheless.
The obvious, most relevant benefit to portability is that the generator can be conveniently relocated as desired.
Thus, if one has a reasonably sized portable generator, it now serves as a dual-purpose accessory instead of a single-use element of life.
Finally, thanks to this streamlined approach, Champion Generators have been optimized for travel—including several features in which complement the basic dynamics thereof.
Specific Classes & Models of Champion Generators
As for specific classes, Champion produces four (4) general categories from which one can select a generator.
(1) Initially, Champion offers a light-duty group…
The smallest generator in this class is the Champion 40027, which has a Starting Capacity of 1000W and a Running Wattage of 750.
Therefore, this model can support lighter burdens akin to small household electronics; radios; lamps; computers; accessory chargers; etc.
Additionally, a unit of this rating is readily mobile and adds substantial value to a tailgating or campsite.
Next up in the light-duty class is the Champion 42011 which is a bit larger—geared for a Starting Wattage of 1000 and runs at roughly 800W.
The 42011 has a single-phase engine with an approximate fuel capacity of 1.1 gallons (which is equivalent to the 40027.)
For clarity, these Champion Generators are both gasoline-powered —making fuel accessibility a non-issue—convenient when outdoors or in remote locations where harder-to-source fuels can sometimes be difficult.
Weighing slightly under 50 pounds, the 42011 is made for transport and is a viable choice for on-the-go recreation…
Other models in the light-duty class are:
(a) Champion 42013
(b) Champion 42451
(c) Champion 40048
(d) Champion CSA42412—the largest model in the light-duty category—has a greater fuel capacity of 1.45 gallons, Starting Wattage of 1500W, and runs at roughly 1200W.
Considerably larger than the smaller models in the class, the CSA42412 weighs a little under 60 pounds, which is still not bad; however, it may be less appealing to frequently move as opposed to the less bulky models.
(2) Furthermore, the second line embodies the Medium-Duty Series; Champion's diversity shows well with several models available…
Leading off is the Champion 49011 which weighs a stout, 131 pounds and has 6 ½ gallons of liquid fuel capacity.
Obviously, this generator is more apt for heavier loads & may require an additional person to be moved (in some cases.)
Popular for tailgating and extended road trips, the 49011 is noted for its output, efficiency, and noise reduction—so, it shouldn't be ruled out due to its heavier weight.
Moving forward, similar medium-duty models (which also have 270cc Engines) are the Champion 49056 and the Champion C49055 respectively—the main difference being that the C49055 is both EPA and CARB Certified while the 49056 is not.
Undoubtedly, each machine w/in this category performs favorably with consistency, and, the 41115 is definitely one of our favorites.
Towards the end of the spectrum in this group, we have the Champion C41255.
The C41255 boasts a 338cc Engine, is EPA and CARB Certified, impressively able with 6800W of Starting Capability (5500 Running Wattage), and a gasoline volume of approximately 6.5 gallons.
Moreover, the 338cc Engine is, in fact, the second-largest offered within the medium-duty line—the 389cc Engine of the Champion ETL 70007 is the largest…
The ETL 70007 runs on Liquefied Petroleum Gas, has a Starting Capacity of 5000W (about 4600 Running Wattage) and is both EPA and CARB Certified as well.
In summary, without question, the Champion Medium-Duty Line is a diverse, capable assortment of dependable generators.
(3) Subsequently, Champion Generators include a Recreational
Line with many types from which to choose; a diverse selection of versatile, on-the-go equipment.
Consisting of both inverter and gasoline-powered models, the rec. the line is advancing recreational power throughout the industry.
Presently, a few of the most sought-after models are:
(i) 40026
(ii) 46515
(iii) 46538.
To wit, one of the historical 'best-sellers' is the C46535.
This single-phase generator's Peak Output is 4450W—generous for a 4-gallon fuel tank—and a 100-pound weight makes it convenient for frequent relocation (if necessary.)
A few other bright spots in the recreational line are the Champion 735521 I, 73531i, and the 71000 I (each of which being Inverter Generators.)
(4) Now, to round-out Champion's offerings, there are the massive, heavy-duty machines.
Providing up to 7200 Running Watts, the Heavy-Duty Class is well suited for strenuous, demanding use.
Specifically designed for large loads, the Heavy-Duty Series is a 'top-shelf' selection for disaster preparation and/or extended travel.
One of the most popular models, the Champion 41533, runs at 7200W, holds 6 gallons of fuel, and weighs nearly 240 lbs.
Accompanying the 41533, are a few other similar models as well: 41534, 41535, 41536, 41537.
In particular, the Champion 41537 attracts a broad-base of consumers
in the result of reliable, consistent power + a slick, high-gloss finish.
Even as the 41537 remains contemporary, we'd like to make note of some that are no longer in production…
Some past #s in this 'robust' class are: 40030, 41302, and the C71350E (EPA Certified 389cc Engine.)
In conclusion, Champion offers an impressive collection of reliable generators that perform well at home, on the go.
As some might not consider portables as adequate whole house generators, the larger, more robust builds can surely provide efficient power for home function(s).
That being said, Champion Generators are most relevant for travel—which they were originally designed for…
As a 'rising star' in reserve energy equipment, Champion Generators are becoming one of the principals in a competitive marketplace.
As a result of relatively lower pricing, quiet operation, and convenient portability, Champion is likely to continue succeeding as its reputation for quality workmanship grows!