Whole House Generators Will Alleviate Concern of Power Failure, Interruption
Whole house generators are specifically designed to power one's entire residence in the event of failure/interruption.
Ultimately, their chief responsibility is to automatically re-instate electricity whenever a disruption occurs.
In my opinion, 'automatic backup' is, perhaps, the greatest benefit of whole house generators—providing both convenience and security at
the same time!
This is important because one doesn't have to be present to continue receiving energy to the home; especially critical for those with alarm systems, pets, and during summer where a lack of power would result in food spoilage (no electricity to the refrigerator, freezer.)
Furthermore, the actual capacity of the generator needed will vary according to the size of the house, the number of residents, and the appliances/electronics that will draw power from it.
Even though it's paramount to have sufficient power in case of emergency, many owners routinely purchase more reserve energy than necessary.
To avoid this, one should take inventory of the most vital appliances/electronics that sustain a comfortable living environment.
Next, the Total Wattage of these essentials should be calculated (every appliance's Owners Manual details this information within the first few pages.)
Once you have accurately accounted for the Total Wattage of the items, utilize the 'correct capacity calculators' which will assist in determining the proper size generator for your home.
(Visit the manufacturer's website in which you are interested to locate the calculator/sizing guide—start with Kohler Generators—global leaders in residential standby power, among other things.)
Alternatively, one can summon the knowledge of a licensed electrician to provide insight as to viable options for whole-house generators that'll meet your family's needs…
Generally, a capable system will range from approximately six (6) Kilowatts on-up.
Many people who are familiar with generators most commonly identify with portable models that can be re-located as required.
Even though there are select builds that can effectively run home for a short while, portables are generally not convenient to power a home for extended periods.
Whole House Generators vs. Portable Generators
As opposed to portable generators, home generators are located at a single spot indefinitely; meaning it is not possible to travel with this type of equipment.
The most pertinent reason for this immobility is that they are significantly larger than portable generators, or even portables that can 'double' as generators for home use.
Due to the more substantial capacity—and ability to energize a large dwelling—whole house generators are considerably more expensive than portables as well.
Nevertheless, this does not limit the selections in regards to fuel type or quality manufacturers of home generators.
Furthermore, whole house generators most commonly run off of gasoline; diesel; natural gas; or liquid propane respectively.
The variety of fuel types alone can present a daunting task in regards to finding a befitting manufacturer/model.
Luckily, there is clarity in the 'world-of-generators' that allows one to quickly decipher which brand, size, and model are best suited for a given circumstance.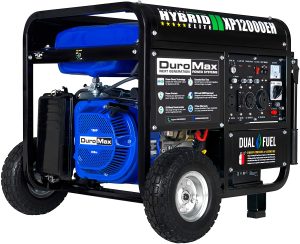 Top Manufacturers of Whole House Generators
Generac Generators are universally considered the leaders in home standby power.
With vast lines of both portable and home generators, Generac is the foremost brand in emergency power equipment.
Although several companies construct whole house generators, Generac has a proven record of dependability and performance that's not easily matched.
Further, as is true with Generac, many of the more reputable brands provide interactive sizing guides/calculators which are both user-friendly and straightforward; these will accurately figure the necessary size of generator for your home.
Also, we undoubtedly recommend purchasing quality, dependable equipment over buying 'the next best thing'—the frequent maintenance and unreliability of sub-standard machinery is more of a headache than an asset.
Besides, it's of no use having any type of equipment—much less an emergency whole house generator—that cannot be counted on when most needed!
This very issue presents another reason why it's imperative to research customer feedback/reviews of each model in which you're interested before purchasing.
Fortunately, in today's digital world, sourcing info. about virtually anything is much easier than before.
As aforementioned, Generac Power Generators are highly reputable and extraordinarily dependable; however, there are a few others that deserve mention as well…
Kohler, Briggs & Stratton, and Honda build quality, competitively priced home generators that have been positively reviewed by industry professionals and owners alike.
Being that many of us are fond of our favorite makers/brands, multiple options for solid equipment is always of benefit.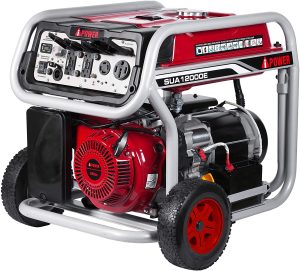 Highlights Of Home Generators
In summary, whole house generators are engineered to conveniently
power one's entire home once a failure has been detected.
The actual size, brand, and features will ultimately vary upon several personal and practical preferences—not the least of which being affordability.
To precisely account for these factors, one must consider what the generator will power, for how long; in addition to the Total Square Feet of the home to which it will be assigned. Without difficulty, one can figure out this information by inputting the pertinent data into one of the readily available 'sizing calculators' offered by the leading manufacturers.
Finally, there are many reputable brands from which one can purchase…
Generac, however, is the #1 manufacturer of residential standby A.K.A. whole house generators (under both advancement & reputation.)