Champion Generators for Home Use
by Editorial Staff
(U.S.A.)
Champion Generators for Home Use—a relatively new category for machinery aficionados and reserve power operators in general.
Naturally, this is because Champion Power Equipment is an up-start in contrast to some of the more established brands in the emergency power industry.
That being said, Champion Generators can be nice finds for the astute shopper and well researched buyer nonetheless.
The main thing we would stress to look for when buying any portable generator for home use is that one makes certain that it's capable of sustaining requisite capacities of prospective residential load(s).
For example, the Champion 41535 is a Category 5, 7500 Watt,
CARB Compliant, portable gas generator & a very effective model for home application.
This becomes even more important if the 41535 (or any model for that matter!) will be the only reserve power source in-the-event-of an interruption.
Furthermore, Champion Generators for Home Use must be separated from their more common, general lines of portable models which may not be sufficient for an average-to-midsized family.
Thus, with the specific purpose of residential application, we would recommend the Champion Heavy-Duty Series which is much more robust than the lighter classes.
Champion's Heavy-Duty Category submits a compelling option for home generators because they operate surprisingly quietly for the levels of energy output.
(Naturally, among other Heavy-Duty models, you can find great deals on the Champion 41535 in our Champion Power Equipment Discount Store… )
Additionally, all of the most common, accessible fuels can be utilized with the various groups of Champion Generators.
In order to determine the best heavy-duty model for your needs, it will mostly hinge on the numerous variables for each individual's situation; however, the Champion 41533 is definitely one of the top selections of whole house generators .
It's a sturdy build, and can be easily transported thanks to the wheels and handles on which the generator's mounted—similar to how a dolly works—it's not difficult to carry heavier objects when proper weight distribution is accounted for in the design of an apparatus.
Moreover, a few other robust Champion Models (which happen to also be CARB Compliant) are:
(a) Champion 41536; 7200 Running Watt, electric start, portable gas variety
(b) Champion 41537 ; 9375 Peak Wattage (7500 Running) with electric start capability
(c) Champion 41534; an excellent gas model—50 Amp output, a top-selection of RV Operation, great for home use as well.
Another interesting aspect about Champion Power Equipment is its yellow-and-black color scheme, which really makes it easy-to-spot in a crowded toolshed or garage…
Take a look at how vibrant this Champion 42431 is and how much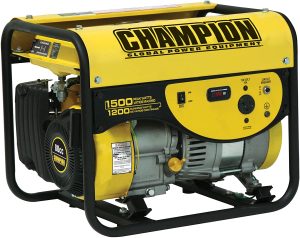 more convenient it would be to locate; notwithstanding a lack of ample light.
This may not seem like a big deal, but when power's out and there's absolutely no light (except for a modest flashlight), 'stumbling-around' for a generator is the last thing one wants to do.
Adding to their easy-to-locate color palette, is the convenient starting functionality of Champion 42431 Generators; one pull, and they're off-and-running!
In conclusion, if one is considering Champion Generators for Home Use , we encourage them to pursue the current options—Champion is growing its reputation for producing some 'best-of-breeds' in the market-place.
Historically associated exclusively with smaller, portable generators, Champion Power Equipment has diversified its 'offerings' to now include a wide-range of more powerful categories.
Again, be sure that your selection is capable of handling minimum home load(s) for at least a few hours without refueling.
(There are a variety of options that'll suffice:)
(i) Champion 46515—tremendously popular, 3500 Watt gasoline powered machine
(ii) Champion 41533— CARB Compliant with 9200 Peaks Watts, can be (conveniently) started via remote
(iii) Champion 41535—Very sturdy at slightly over 230 lbs., equipped with a nearly six (6) gallon fuel tank; 7500W affords sufficient 'range' to energize the majority of tasks that'll be commissioned. Any of these models will maximize user-experience & be an effective generators for home use…In conjunction with quiet operation and reliable starting performance, (portable) Champion Generators for Home Use are fully optimized for travel, on-the-go re-location; establishing a unique category in the growing field of new and 'not-so-new' manufacturers.