This is the much awaited article from our website. Although we have been receiving requests from our readers to write on it. Due to the pre scheduled assignments and articles, we were not fully able to concentrate on this topic. Finally, it's shared and we come up with the best dual fuel generators with the best fresh view of the latest possibilities of 2021.
These are the best available products in the market. We have chosen them on the basis of price, performance, requirements of the customers, and durability. We hope that you will find the one best product for you here.
WGen7500DF by Westinghouse
Features Of WGen7500DF by Westinghouse
Some of you may Wonder That why I put this model on the top of the list. The reason is that it is my personal favorite due to its compatibility and efficiency.
The powerful engine installed in this makes it useful for providing a big amount of energy.
Secondly, the number of outputs makes it convenient to be used with several products. In my own experience, I haven't witnessed such a powerful generator with very low operating noise.
If you are a regular generator user then you must be familiar with the powerful and efficient generator model WGen7500. Yes, this is all. All the qualities and the capabilities of this famous model. Even one other thing that this model does have and the previous one does not own is the capability to run on the dual fuel.
Product Description:
Engine
420cc OHV the best performing engine is fitted in it. This engine provides a solid basis for the ultimate performance of the generator.
American Origin
Westinghouse is an American firm. Equipped with the latest technology and following the highest quality standard you should be sued and have the piece of the mind. This means that this is not a cheap copy of the famous brand as most of the chinese manufacture produce.
Optional Parameters
As far as the operational parameters of the machine are concerned. The machine has two different output levels. This is due to the factor that the machine can be operated on two different types of fuel. By changing the type of fuel the output parameters will be changed automatically.
Propane
8550 is the starting wattage while you are running this machine on propane. The running wattage is 6750 watts for the same fuel.
Gasoline
On gasoline, you will get more power from the same machine.  Both the values that are for the running watt and the starting watt will be higher. Here you will get 9500 as the surge and 7500 as rated watts.
Pros
The machine is beautifully designed

It provides high wattage as the output

Manufactured by an American firm

An economical machine that provides fuel efficiency
Cons
While considering the price this is on the higher side.
Dual Fuel 3400-Wat generator by Champion
Features Of Dual Fuel 3400-Wat generator by Champion
Champion Power Equipment is the powerful brand behind this product
The output of the generator Wattage is 3400 watts
The generator Dimensions Length is 25.1 Width is 17.3 and the Height is 18.3 inches
The Weight of this product is 95.7 Pounds
This is made with a combination of the Color. These colors are Yellow and Black.
The Frequency of the generator is 60 Hz
It has the capacity to operate on two different types of Fuel.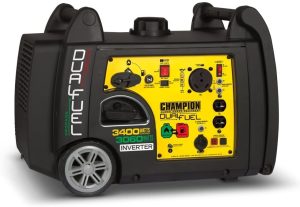 Product Description:
Gasoline or Propane
This is entirely your choice on which type of fuel you want to run your generator. This machine provides you the flexibility that you can run it either on gasoline or propane. One important thing to remember is that it requires engine oil a quarter of it to run smoothly. The recommended engine oil to be used in the generator is 10 w – 30.
Less noise
This is natural for the generator to produce noise. In comparison to other generators, it produces less noise. The noise level it produces is 59 DBA at the frequency of 60 hertz.
Out Lets
This generator provides multiple outlets that include
One 120V 30A RV
Two household outlets with the specification of 120V 20A
Clean Electricity
The electricity generated and supplied by this generator is cleaned as The TDH % is less than 3
After sales services
The manufacturer provides three years limited warranty for this product. Not only this but the technical support is available as long as you have the product.
Technical Specification
3400W is the Starting Wattage while the  Running Wattage is 3100W. The engine type used in this generator is  4-stroke and it possesses the power of 192cc OHV. The Fuel Tank has a capacity of 1.6 Gallon. Running time matters on the type of fuel you are using. If you are using gas then the generator will run for 7.5 hr. For Propane, this amount becomes nearly double that is maximum up to 14.5 hr. Assembly is not required for this machine and it is ready to be used as received.
Product Package
Product package contains items that are
Propane Hose – (LPG)
USB Adapter
Battery
Oil Funnel
Pros
This generator is based on the inverter technology

Less noisy operation

The engine used is a consistent performer

The generator has a ready RV.
Cons
This is not a lightweight product
12000EH XP - DuroMax
Salient Features: 12000EH XP – DuroMax
DuroMax is the Brand responsible for the presence of the product in the market
The operative Wattage for this generator is 12000 watts
This generator has these Dimensions Length 30 in Width is 29 and height is 26. All of these measurements are done in inches.
The Weight of the generator is 224 Pounds
The generator is designed in combinations of the two colors. These are Black and Blue
The operative Voltage of this generator is 240 Volts
4 Stroke is the type of Engine installed in this product
Engine Displacement 457 Cubic Centimeters
The Operative Frequency of this generator is 60 Hz

.
Product Description:
Powerful Engine
This generator that is XP12000EH is equipped with a powerful engine. That is designed to fulfill all your needs. This OHV engine is 457 cc.
Multiple Fuel Options
You can operate this machine on the fuel of your own choice. You have the liberty to choose between propane or gasoline. The operation time for these two fuels is different from each other. Your generator will run for 7 hours if operated on propane. Its operational time increases one hour if your choice changes from propane to gasoline. These calculations are true for 50% load.
Generator noise
Generally, generators produce sound so there we do not have any exceptions for this generator. In comparison to the size of the generator, the sound produced by the  XP12000EH is relatively low. So you may say that this is comparatively a low noise producing generator
Generator for construction sites
This generator is the best one to be used in construction sites. The reason behind this logic is that this generator circuit can also work with the welding units. You can even use it as a backup for emergency supplies in your home.
Camping sites
If you think that you can use this generator as your companion on camping sites. Plus you can use these in your RV. Then you are clearly At The Wrong side of a decision. Due to its heavy size, this generator is not at all suitable to be your partner at the camping site and even in your RV. In this case, we recommend you to go for a generator that is much lighter in weight than this one
Pros
The output capacity of the generator is really very high

The generator is made of a solid steel frame; this is the reason it is highly durable.

This provides fuel efficiency so it is not too heavy on your pocket.

In comparison with the other the generator of the same size this is really quite Machine
Cons
This is a bulky generator and so heavy that you cannot carry it easily from place to place
XP4850EH DuroMax - Generator
Salient Features: XP4850EH DuroMax – Generator
DuroMax is the reputable brand behind this product
3850 watts is the operational Wattage for this power generation machine
As far as the Dimensions of the XP4850EH DuroMax – Generator is concerned the Length is 24, the Width is 17 and the Height is 17. All of these values are measured in inches.
130 Pounds is the Weight of the XP4850EH DuroMax – Generator.
This has the ever Green color.
120 Volts is the operational Voltage for this machine.
Equipped with a powerful engine that is of 4 Stroke.
60 Hz is the operational Frequency
This is one of those machines that can be operated on two different types of the fuel
96 Gallons is the capacity of the Fuel Tank.
Product Description:
Powerful machine
If your power requirement is more than 3500 watts and less than 4850 watts. Then this is a perfect machine for you. This will provide you with the power generation upgrade without investing too much from your pocket. This machine is enough for a home. It can easily run different appliances in your homes like a refrigerator and even an air conditioner.
So if you are looking for a machine that is suitable for your house and can take the load of the house easily this machine is perfect for you.
Dual fuel operation
XP4850EH DuroMax – Generator provides you the freedom that you can operate it on your choice of fuel. This dual fuel operational capability is highly beneficial especially when you want your machine to be operated for a longer period of time. Secondly, you are in the middle of a crisis and do not know when you will be able to get the supply of the fuel. thirdly you can make an economical choice. As you have the Liberty that you want you can choose the cheaper fuel.
DuroMax 210cc OHV
The powerful engine DuroMax 210cc OHV is the powerful child which controls the machine. This can run the machine so efficiently that it serves multiple purposes. It is used to drive high voltage tools. Even this can serve your purpose, while you are using the normal home appliances.
An RVs Machine
If you are looking for a machine that has the capability to fulfill the requirements of your RV. Then your search is over here. You should consider this generator as your top priority while considering and comparing different generators for your RV machine.
MX2 Technology
Equipped with MX2 Technology this generator can provide you two different types of outputs simultaneously. You can get 120 volts and 240 volts. If you want you can even choose the output only of one type. The maximum output will be provided when you choose only 120 volts as your output option.
Power Panel
Power panel is fully equipped and provides multiple choices. These watches can easily accommodate multiple requirements of the user. It agrees with flexibility and makes this special as a perfect tool in different circumstances.
The multiple people the power options provided with the machines are
GFCI outlets for 120V household
Twist lock outlet 120/240V of 30A.
A voltmeter on the panel
DC charging posts of 12V. These can be used  for the charging of external batteries
Pros
This is made of a steel frame that is really durable
A silencer is provided that can reduce the noise
It can be used at multiple locations. This is perfect for the construction site.
You can use it in your RV
Cons
Although not very high priced, I wish that it should be available at a slightly cheaper rate.
76533 - Power Equipment by Champion
Although this is part of the champion dual fuel generator reviews, due to its high performance, we are including it here.
Salient Features: 76533 – Power Equipment by Champion
76533 – Power Equipment by Champion is Colored in two different colors. These colors are Yellow and Black.
Champion Power Equipment is the reputable Brand standing behind this product
122 Pounds is the weight of this machine.
While considering the Dimensions of the generator in inches. The different parameters are Length wise it is 26.3, width wise it is 24.8, and height wise it is 22.9 inches
This machine made by the Power equipment champion possesses the capability to operate on two different types of fuel one is gas and the other is propane.
The engine installed in this machine is 4 Stroke
It is operated on the Single Cylinder
76533 – Power Equipment by Champion is an Air Cooled machine
Equipped with the safety features. The machine has an auto shut down feature at Low Oil.
Two types of the starting technologies are provided in the machine one is the Electric and the second is the recoil Start
The Cast Iron Sleeve of 76533 – Power Equipment by Champion makes it a durable machine.
The size of the Gasoline Fuel Tank is 3.4 Gallon. If measured in liters this is 12.9.
The folding handle makes it a Portable unit.
The tires are made in such a way that they will never be flat.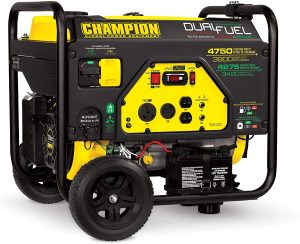 Product Description:
Reliable Product
If you are of the opinion that there are only two reputable brands in generators are Honda and Yamaha. Then you are clearly mistaken. This product is here to completely shake your belief or at least rebuild it.
List price
Even though it is really a cheap product in terms of the price. If you compare it with the alternative models made by the Japanese. But Do not worry as this reduction is only in the price and not in the performance of the generator.
RV generator
If you own an RV then this is a recommended product for you to have.
Emergency power supply at home
This machine can produce enough energy that can be able to run different home appliances. These home appliances include an air conditioner of 10,000 BTU television cookers, refrigerators, and different lighting equipment in the house.
Fuel-efficient
This fuel efficient machine can easily run for 10.5 hours. If you completely feed the tank with propane. These calculations are taken for the machine that is operative on 100% load.
You can even add a few more hours of operation if you turn it on gasoline.
Easy start
You do not need to start it manually it comes with an easy start push button. So use this button and make your life easy.
Noise level
If you are allergic to noise then let me tell you clearly that this generator will produce lots of noise. The noise level of this generator is not less than 68 DB. Yes, no doubt that this is a loud machine.
Pros
Impressive operational time

Really an economical choice

The machine is free from installation work and ready to be used with an RV

This comes with easy to start electric

switch
Cons
This is really a loud machine to have with you
Final Words
Dual fuel operated generators have their own benefits. You can enjoy these benefits as long as you do the proper care of your machine. Every machine is slightly different from others. So read the manual of the machine carefully. Do the maintenance activity as mentioned in the manual. Do it on a permanent basis. Never hesitate to ask her for advice. Please remember that your hesitation may destroy your machine.