Portable Gas Generators Facilitate Optimal Outdoor Experiences
Portable gas generators have become absolute 'staples' of football, baseball stadiums across the country.
There was a time when only the privileged could afford such non-essential equipment; however, nowadays, this could not be farther
from reality. As remarkable advancements have been realized in both engineering, and, manufacturing of mobile, gas powered equipment, so has the affordability of these machines as well.
Generally, when one speaks about portable gas generators, the capacities begin at about 800 – 1200 Watts on the light-duty side; robust/heavy-duty models can range all-the-way up-to 15,000W or more.
Another intriguing facet of portable gas powered units is that one can more easily locate used electric generators juxtaposed to the more permanent, standby counterparts.
What's more, as the industry has continued to impressively expand-and-evolve, we've witnessed an explosion of new manufacturers enter into the challenging realm of reasonably priced, portable reserve energy equipment.
Top Manufacturers of Portable Gas Generators
As we briefly 'touched-upon' earlier, there has been an unforeseen (rapid) increase in the number of companies now fabricating this equipment; thus, it can sometimes be difficult to have confidence in which brand is most apt for one's intended purpose(s).
Fortunately, there are several reputable brands with which we are extensively familiar, and would recommend any serious consumer to further research/inquire about…
(i) Champion Generators have proven to be very strong 'players' within the industry, and are held in high esteem by the droves of enthusiastic owners around-the-globe.
Champion Power Equipment, Inc. is a California-based corporation that has risen in popularity in result of its commitment to very competitive pricing, multiple CARB Compliant units, and satisfactory end-user customer service;
(ii) Generac's line of portable generators continue to speak volumes about the world-class quality, durability, and craftsmanship included in all products made from Generac Power Systems, Inc.
During our daily course-of-business, the majority of correspondence received with respect to Generac pertains to its residential standby units.
(In fact, there are customers who have—after made aware of them—purchased a portable model simply because they genuinely expressed 'full-faith' in this pioneering company);
(iii) Honda Generators are, without question, a global leader in mobile backup power equipment as well.
Significantly increasing the overall stature of Honda is its well-rounded power equipment entity, under which, all generators are categorized.
Honda Power Equipment—unlike innumerable competitors—realizes consistent demand for more than one-of its innovative units.
Notably, the Honda 2000i Generator receives year-round attention, and, weighing less than fifty (50) pounds, is perfect for on-the-go activities; (e.g., tail-gating, camping, outdoor events, etc.).
Used Electric Generators
Used electric portable gas generators can definitely provide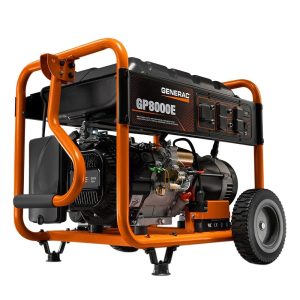 tremendous value for would-be equipment owners.
In fact, there are some Generac Portable Generators—like the 4000XL—that are 'extended-life' varieties, made to run significantly longer than standard units.
Obviously, given the machinery is no longer brand-new, one can expect to spend significantly less on a used model than if purchased 'fresh' out-of production.
After paying diligent attention to the vast opportunities in used electric generators, we were recently able to secure a slightly used Honda 2000i Generator in pristine condition.
Similarly, an associate of our business was fortunate enough to replace an aging standby unit with a used, portable Generac 5943 Generator as well.